It's been heartbreaking to watch the news come in from Haiti this week. Since the devastating earthquake hit the already struggling country last week, there have been more than 50 aftershocks, with two more striking on Thursday. Like so many of you, I immediately sent a donation via a text message to the Red Cross, but I have been touched to find out how many people are mobilizing in their own way to help, including those in the fitness community.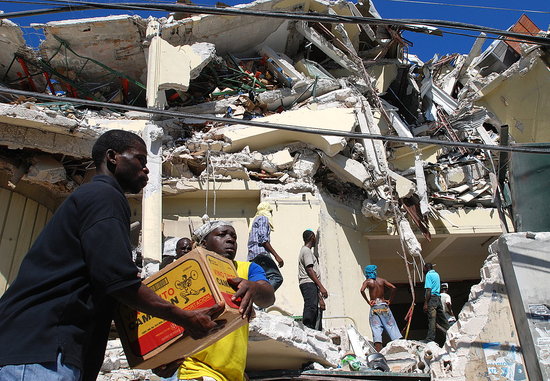 While searching the web, I came across the blog Run 4 Haiti, one man's effort to raise money for Haiti disaster relief. As soon as the earthquake hit, Clint Johnson decided that he would run the PF Chang Rock 'n Roll Marathon for this cause. He did it without training or ever having run a marathon before. In just three days Clint had his site up and running and was able to raise close to $4,000.
To hear about more charitable fitness events and find out how you can help, read more.
Curious, I decided to see if anyone else had Clint's idea, and I was touched to find out that he was not alone. Actor Josh Duhamel is teaming up with the Red Cross to organize Youth Run 4 Haiti, a two-mile charity run on the Santa Monica beach this Saturday. Runners participating in next week's ING Miami Marathon and Half Marathon will be able to donate their entry fee to charity and/or join Team World Vision, which has been providing aid to Haiti since the hurricanes of 2008. There are also smaller events being organized, like the 80 for Haiti charity cycling event in San Diego, CA, and Help Haiti Run in Morristown, NJ. Even YogaDork is getting in on the action with its Design a Tee For Haiti Disaster Relief contest.
If you're wondering how your passion for fitness can also benefit the Haiti earthquake relief effort, do a little research around your community — chances are there might already be an event happening. If not, see if you can coordinate with your local gym to host an event or piggyback on any races or marathons in your area and see if they will consider turning it into a charity event. Also, don't underestimate your own power to organize a fitness-themed charity event. You can also ask individuals to sponsor your own efforts like Clint Johnson did — every little bit helps. And as is the case with any charitable organization, do your background research so you know that your funds are going to the right place.